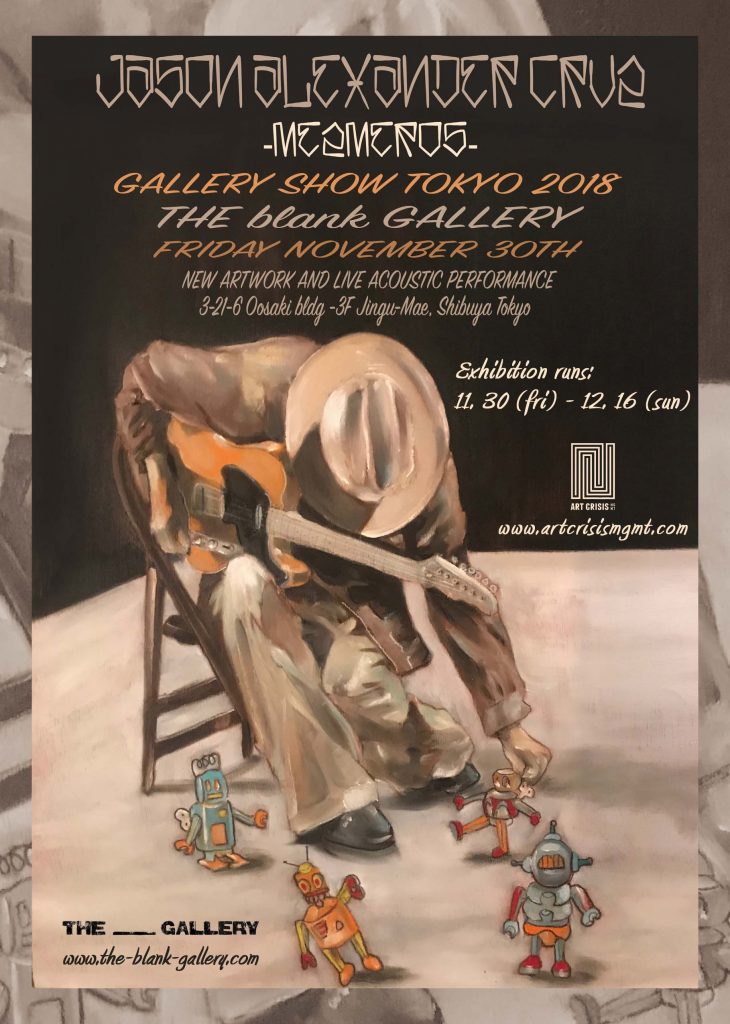 Jason Alexander Cruz  Art Exhibition 
-MEZMEROS-
@ THE blank GALLERY, Tokyo
90年代よりアメリカ西海岸パンクシーンを代表する存在の一つであるメロディックハードコアバンド Strung Out。そのフロントマンであり、ペインター/タトゥーアーティストとしての顔も持つJason Cruzのアートショウ、-MEZMEROS-を開催します。
THE blank GALLERYでは、2016年に続き2年半ぶり、2度目の個展となります。本展に向けて描かれたペインティングやドローイング作品を初め、プリントの販売も予定。また、11月30日のオープニングでは、アコースティックライブも予定しています。お見逃しなく!
THE blank GALLERY Tokyo proudly presents an art exhibition by Jason Cruz of Strung Out. His second solo show in Tokyo will feature new paintings, drawings, prints, and also a live acoustic performance at the opening on Nov. 30th. Don't miss!!
2018年11月30日(金)-12月16日(日) November 30th – December 16th
オープニングレセプション:11月30日(金) 18:00-21:00
Opening reception : Nov. 30th, 6-9pm
入場無料 Entrance Free
30日のオープニングは、どなたでもご来場いただけます。お気軽にご参加下さい!
Everyone is welcome to the opening reception on the 30th.
THE blank GALLERY
http://www.the-blank-gallery.com/
東京都渋谷区神宮前3-21-6 大崎ビル3F
3-21-6-3F, Jingumae, Shibuya. Tokyo
Contact
General: info@the-blank-gallery.com
Sales: sales@the-blank-gallery.com
TEL: 03 6804 5150
営業時間
平日 weekdays 13:00-19:00
土日 weekends 12:00-19:00
休廊日 月・木曜日 Closed on Monday/Thursday
※19:00-20:00はアポイントメント制にて延長します(営業日のみ)。19時より前に電話またはメールにてご一報の上ご来場下さい。
Jason Alexander Cruz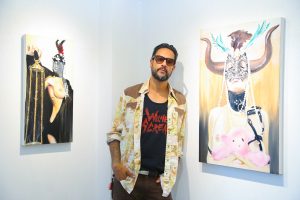 カリフォルニア出身、父であり、孤高のアーティストであり、激情のフロントマンとして知られるジェイソン・クルーズは、詩を書く事と、絵を描く事と、ステージでパフォーマンスする事に人生を捧げている。17歳の時にアートでの奨学金を蹴ってStrung Outを結成してから29年、曲を書いて演奏し、世界中を周っている。
バンドのロゴ、Tシャツ、アルバムジャケットのアートやデザインを手がけ、また3年間タトゥーアーティストの訓練を受けた経験から、興味は次第に油絵へと移る。絵画においての影響はアメリカの全てであり、宗教、スケートボード、セックス、ジャズ、カルト現象、愛、ノワールのレトロ雑誌の表紙からポップな物まで幅広く、自らの作品を「曲を描き、絵を唄う」と解釈している。
これまでに11枚のアルバムをリリースし、絵も日常的に描いている。
Jason Alexander Cruz is known to many as a reclusive artist and wild-eyed frontman. A
California native and a father, he has been writing, painting and performing just about all his life.
At the age of 17 he would walk away from an art scholarship to form Strung Out; the band he
would spend the next 29 years writing, performing and traveling the world with.
Designing the visual aspect of his band, logos, T-shirts and cover art as well as a three-year
tattoo apprenticeship eventually led Cruz to oil painting. Influenced by all things America,
Religion, Skateboarding, Sex, Jazz, the Occult, Love, Classic Paperback Cover Noir and Pop
Bubblegum; He describes his work as "Painting songs and singing pictures."
He has released over eleven albums worldwide and paints every day.
https://www.instagram.com/amerikanblackheart
https://www.facebook.com/AmerikanBlackheart
ART CRISIS MANAGEMENT
STRUNG OUT Japan Tour 2018
Nov. 22  新宿 ACB HALL
Nov. 23  新宿 ACB HALL
Nov. 24  神戸 Harbor Studio
Nov. 25  心斎橋 Pangea