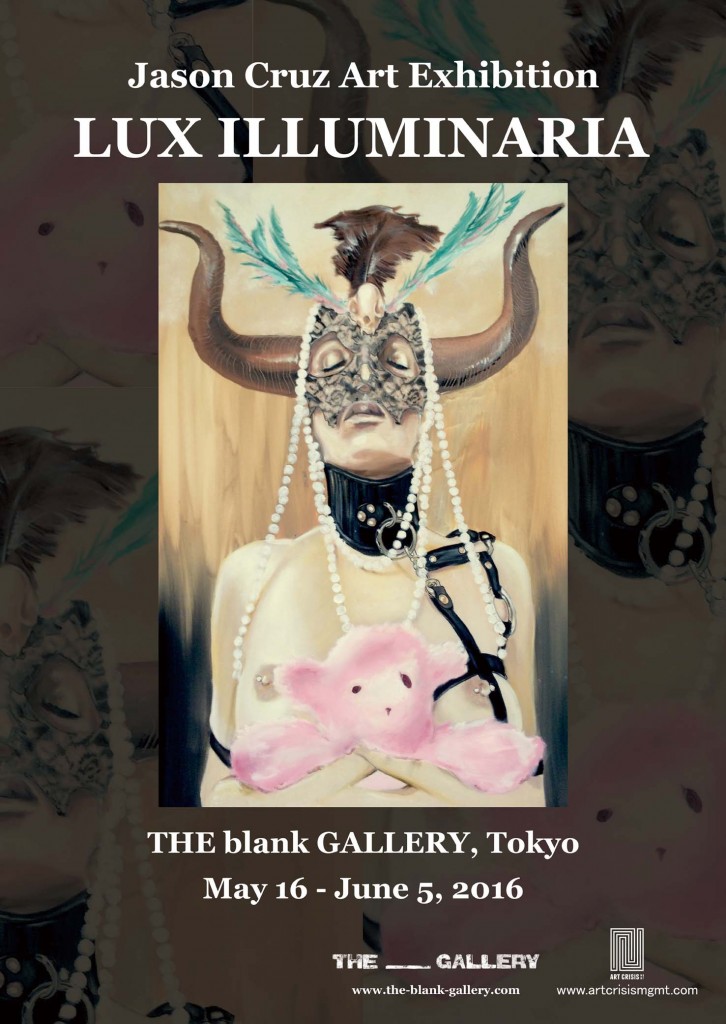 Jason Cruz Art Exhibition
LUX ILLUMINARIA
@ THE blank GALLERY, Tokyo
2016年5月16日(月)~6月5日(日)
オープニングレセプション:5月16日(月) 18:00-21:00 (18時開場)
Dates: May 16th (mon) – June 5th (sun)
Opening Reception: May 16th (mon)  6:00 – 9:00pm (door opens at 6:00pm)
90年代よりアメリカ西海岸パンクシーンを代表する存在の一つであるメロディックハードコアバンド、Strung OutのフロントマンJason Cruzによる、国内初のアートショー。本展の為に描きおろした新作オイルペインティングとドローイングのほか、プリントもリリースします。Strung Outの音楽にも通じる彼の独創的な世界観をお楽しみください。
THE blank GALLERY in Tokyo proudly presents an art exhibition by Jason Cruz, who is known as the lead singer of one of the most influential punk band Strung Out. For the first time ever, his original art works are going to be featured in Tokyo, also some prints will be available.
※本展は当初、Jasonの友人でもあるプロスケーターのKris Markovichとのジョイントエキシビションとして予定されていましたが、アーティスト側の都合によりKrisは不参加となりました。彼の作品を楽しみにされていた皆様には、深くお詫び申し上げます。
This exhibition was initially scheduled as a joint show with Jason's friend and a pro-skater Kris Markovich.  Due to the artist's circumstances, we will not have Kris' works for this exhibition.  We apologize for whom were looking forward to see his works.
Jason Alexander Cruz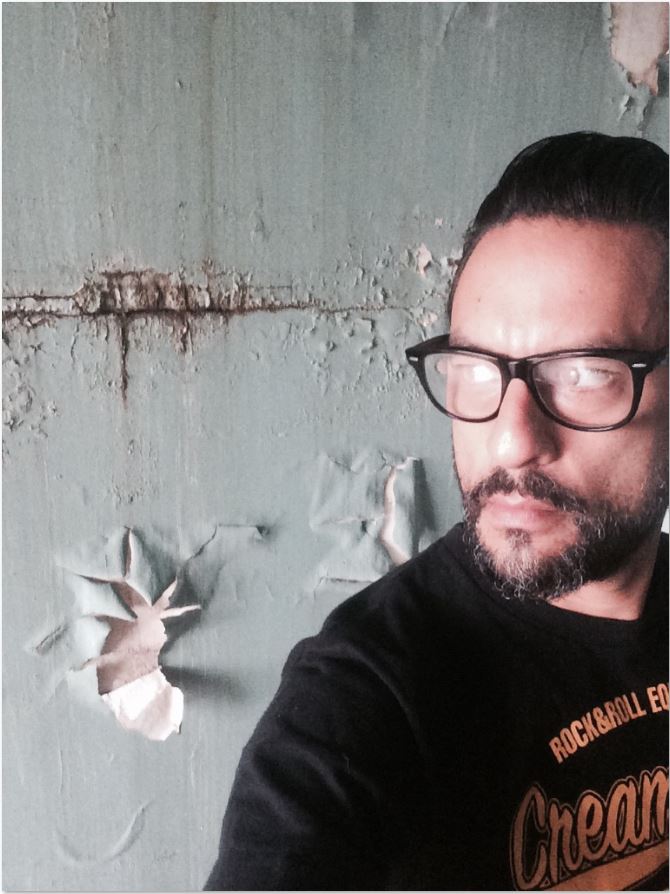 カリフォルニア出身、父であり、孤高のアーティストであり、激情のフロントマンとして知られるジェイソン・クルーズは、詩を書く事と、絵を描く事と、ステージでパフォーマンスする事に人生を捧げている。17歳の時にアートでの奨学金を蹴ってStrung Outを結成してから25年、曲を書いて演奏し、世界中を周っている。
バンドのロゴ、Tシャツ、アルバムジャケットのアートやデザインを手がけ、また3年間タトゥーアーティストの訓練を受けた経験から、興味は次第に油絵へと移る。絵画においての影響はアメリカの全てであり、宗教、スケートボード、セックス、ジャズ、カルト現象、愛、ノワールのレトロ雑誌の表紙からポップな物まで幅広く、自らの作品を「曲を描き、絵を唄う」と解釈している。
これまでに11枚のアルバムをリリースし、絵も日常的に描いている。
Jason Alexander Cruz is known to many as a reclusive artist and wild-eyed frontman. A
California native and a father, he has been writing, painting and performing just about all his life.
At the age of 17 he would walk away from an art scholarship to form Strung Out; the band he
would spend the next 25 years writing, performing and traveling the world with.
Designing the visual aspect of his band, logos, T-shirts and cover art as well as a three-year
tattoo apprenticeship eventually led Cruz to oil painting. Influenced by all things America,
Religion, Skateboarding, Sex, Jazz, the Occult, Love, Classic Paperback Cover Noir and Pop
Bubblegum; He describes his work as "Painting songs and singing pictures."
He has released over eleven albums worldwide and paints every day.
Jason Cruz Art  http://amerikanblackheart609.format.com/
Strung Out  http://www.strungout.com/
Art Crisis MGMT  http://www.artcrisismgmt.com 
STRUNG OUT Japan Tour 2016
May 13 (Fri) 新宿ACB HALL
May 14 (Sat) 吉祥寺CLUB SEATA
May 15 (Sun) 神戸Harbor Studio
More Info http://unionway.jp/index.html
THE blank GALLERY  http://www.the-blank-gallery.com/
東京都渋谷区神宮前3-21-6 大崎ビル3F
3-21-6 Third Floor, Jingumae, Shibuya
Tokyo, Japan
Gallery Hours
平日 weekdays  13:00 – 19:00  (月曜休み closed on Monday)
土日 weekends  12:00 – 19:00
Contact
General Info : info@the-blank-gallery.com
About Sales: sales@the-blank-gallery.com