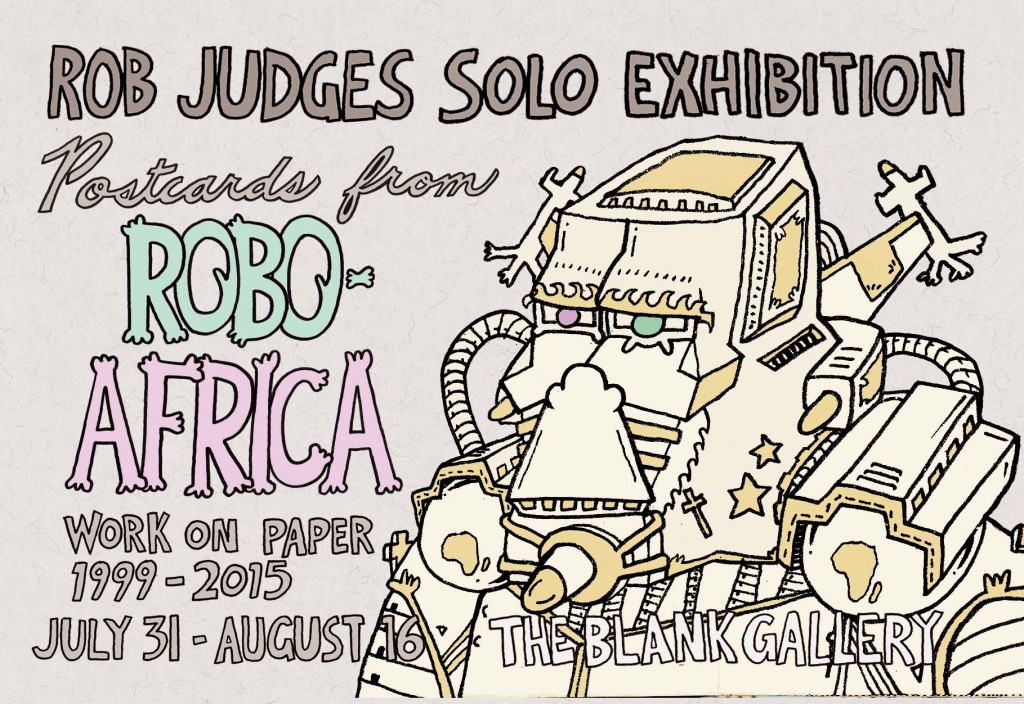 Rob Judges Solo Exhibition : Postcards From ROBO-AFRICA
Work on Paper  1999 – 2015
@ THE blank GALLERY
カナダ出身、東京在住のアーティスト ロブ・ジャッジズは、University of Torontoにてアートと記号学を専攻。古いアメリカンコミックや北米のトーテムポールの象徴性に強い影響を受け、2005年から東京に移住すると都会のネオンの色合いやタイポグラフィに魅せられる。以後、東京で教師、DJ、クライアントワーク(adidasほか)など多岐に渡り活動し、日々の生活から吸収するものをアート作品でアウトプットする。
本展では、1999年ごろから最近までの、日常のなかで書きためたスケッチやドローイング、コラージュ作品など、紙を支持体とした多くの作品のほか、zineやTシャツを展示・販売いたします。THE blank GALLERYの設立時からグループ展などで継続的に紹介してきたRobですが、当ギャラリーでは初めての個展となります。ポップでどこか懐かしい作品郡を是非お楽しみ下さい。
THE blank GALLERY proudly presents Rob Judges, who has been with us since the DAY 1.
In the past few years Tokyo-based Canadian artist Rob Judges has sold dozens of his pop art paintings on wood which depict his odd, colourful world of freaks, totem poles and typography.

This solo exhibition, Postcards From Robo-Africa, is special in that it focuses on the artist's work on paper. Available will be dozens of signed, original pieces in drawing, painting and collage form.

Also available will be t-shirts and zines.
2015年7月31日(金)-8月16日(日)
July 31 (Fri) – August 16 (Sun)
初日18時よりオープニング (18時会場となります)
Opening Party: July 31st  18:00~ (Doors open at 18:00)
営業時間 Gallery Hours
平日(weekdays) 13:00-19:00 (木曜定休 closed on Thursday)
土日(weekends) 12:00-19:00
THE blank GALLERY http://www.the-blank-gallery.com
東京都渋谷区神宮前3-21-6 大崎ビル3F アクセス